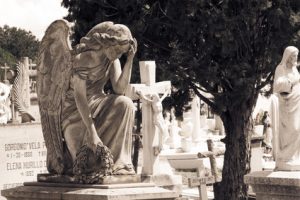 Halton Memorials is a family run business that began trading in Widnes in the early 1960s. It was founded by Charles Carter who began to learn the trade as an apprentice with R. O. Evans in Liverpool shortly after the end of the Second Word War. After completing his apprenticeship Charles worked on a freelance basis for a number of masons in the Liverpool area before setting up his own company.
In the 1970s Charles was joined by his son David Carter who took over the running of Halton Memorials after his father's death. He expanded the business supplying memorials direct to customers and also to fellow memorial traders and we were soon fixing over twenty headstones a week. All the work done by Halton Memorials is done in house we do not sub contract our work unlike most other memorial masons, in fact we are the people other stonemasons sub contract their work to. We are not sales people we are skilled craftsmen, your guarantee that from start to finish your order will be dealt with by people who know the memorial trade inside out.
All Halton Memorials customers are treated with respect and dignity and our work is carried out by highly skilled and qualified craftsmen at our factory in Aintree.  Every headstone is crafted to your individual needs using traditional and modern methods. Halton Memorials have invested in all the most up to date technology  so that computers and lasers can be used to etch words and images onto gravestones, creating a fitting and lasting tribute for your loved ones.
By moving the business online, Halton Memorials has reduced the costs of maintaining a showroom and can now pass on these savings to the customer. Customers can order directly online but for those who prefer the personal touch, a member of our team can call you to arrange a visit for the completion of the necessary paperwork once you have filled out an enquiry form. The price we give you includes the cost of the headstone any lettering, images and ornamentation you require as well as fixing. There are no hidden extras and the price we quote you at the time of order is the price you pay.
We are a BRAMM registered company

___________________________________________